By Darrel Fullbright, Duncan Lyons, Jim Stanislaski, Gensler
This article was originally published on Gensler's Dialogue Blog.
The shift to hybrid work modes and work from home has upended not only how we work, but also the places and spaces where we work. Work from home will continue as part of a hybrid work model, so the office no longer needs to be a container for people who can do focused work anywhere — instead, office buildings must support new ways of working and foster memorable experiences for the tenants who use them. With a renewed focus on sustainability and wellness, we believe it's time for a new paradigm — one that examines the future office through an Environmental, Social, and Governance (ESG) lens.
As part of a research project, a team of Gensler designers and consultants posed the question: what does the future model for ground-up office development look like, and how is it different from a traditional office building? The result is a design speculation for a real site in a typical urban setting, a concept we're calling the "Morphable Office."
The Morphable Office's purpose is twofold: To create a compelling environment that draws people back into the office, but also appeals to their desire to address things like equity and climate change. This design concept rethinks the office paradigm with a focus on sustainability, wellness, and experience — bringing in renewable energy, outdoor spaces, and more.
Four drivers impacting the office of the future
Based on our research, these are four categories driving future office buildings:
1. Experience supercharger:
Culture, creativity, and innovation need in-person interaction; therefore, the office must focus on collaboration and connection, fostering long-lasting, memorable experiences.
2. Connection to the outdoors:
To appeal to today's workers, office buildings must have connections to high-performance outdoor space, with outdoor areas equipped with mechanical systems such as radiant heating and cooling to support meetings, focus space, and more.
3. Community catalyst:
We believe that office buildings should be contributing to their surrounding neighborhoods even when workers are not present. By integrating their ground floors into the community, office buildings will become anchors of the 20-minute city.
4. Impact investments:
Consider the broader impact these buildings have as investments. Elevated and landscaped decks and outdoor zones, operable windows for fresh air, and open stairways are the types of enhancements that can increase a building's value and help developers frame position their projects as Environmental, Social, and Governance (ESG) investments.
Rethinking the office paradigm: The Morphable Office
Our proposed site in Baltimore is adjacent to a Central Business District and major research campus, but it also borders inner city residential neighborhoods that are traditionally underserved by development in the region. We did a deep dive into the site and a gap analysis to assess what was missing in the neighborhood that would benefit the local community.
We set the building back from the street and created a linear park along the eastern edge. Then we raised the building up so that the public realm could extend under the building, and proposed ground floor programs that support community uses.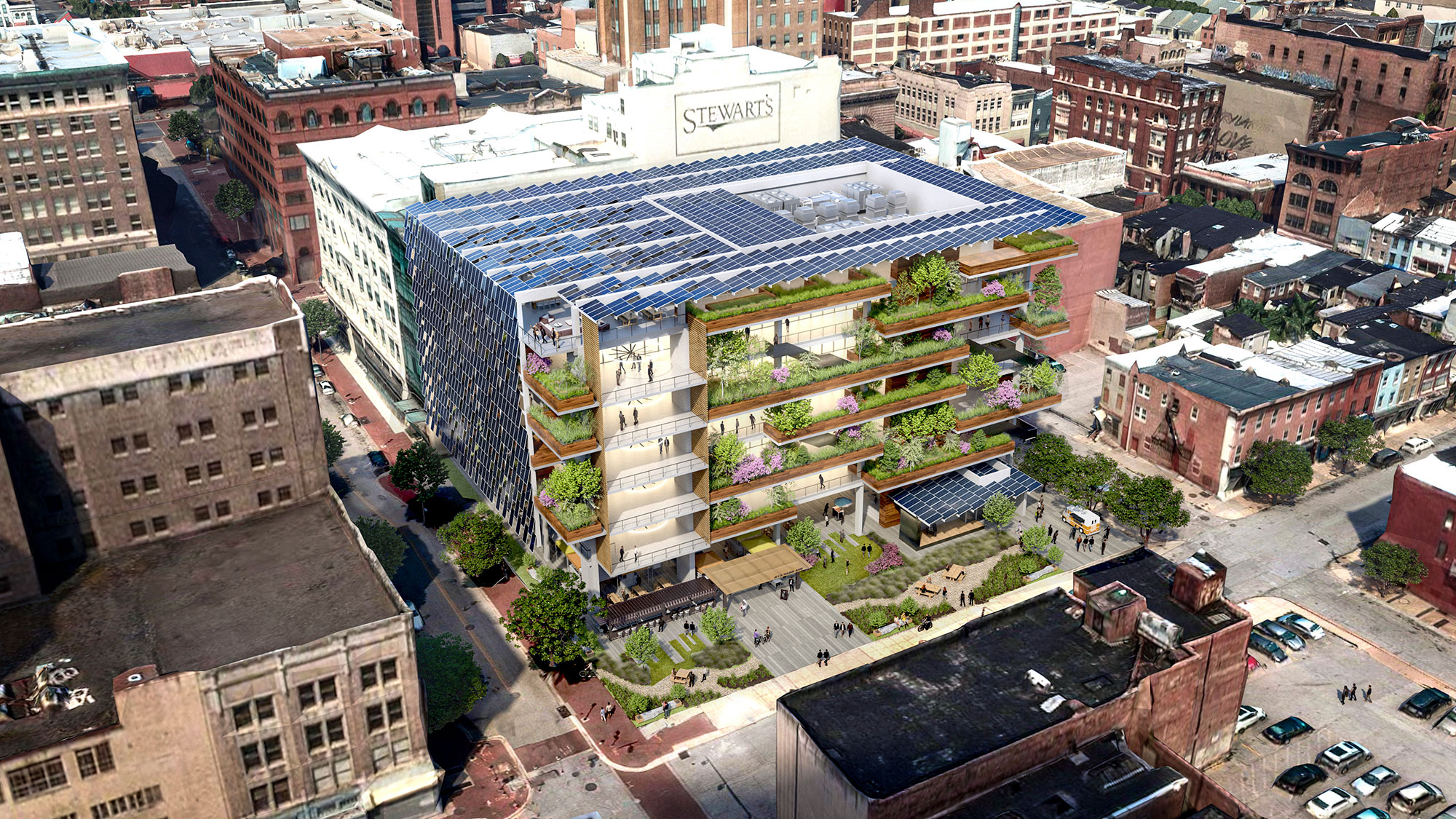 We wrapped the rooftop and south façade with a layer of photovoltaic panels to generate electricity. And we extended the park as a vertical garden up to the roof of the building, so every level of the building is like a ground floor, giving tenants access to biophilic green space through all nine floors without going inside.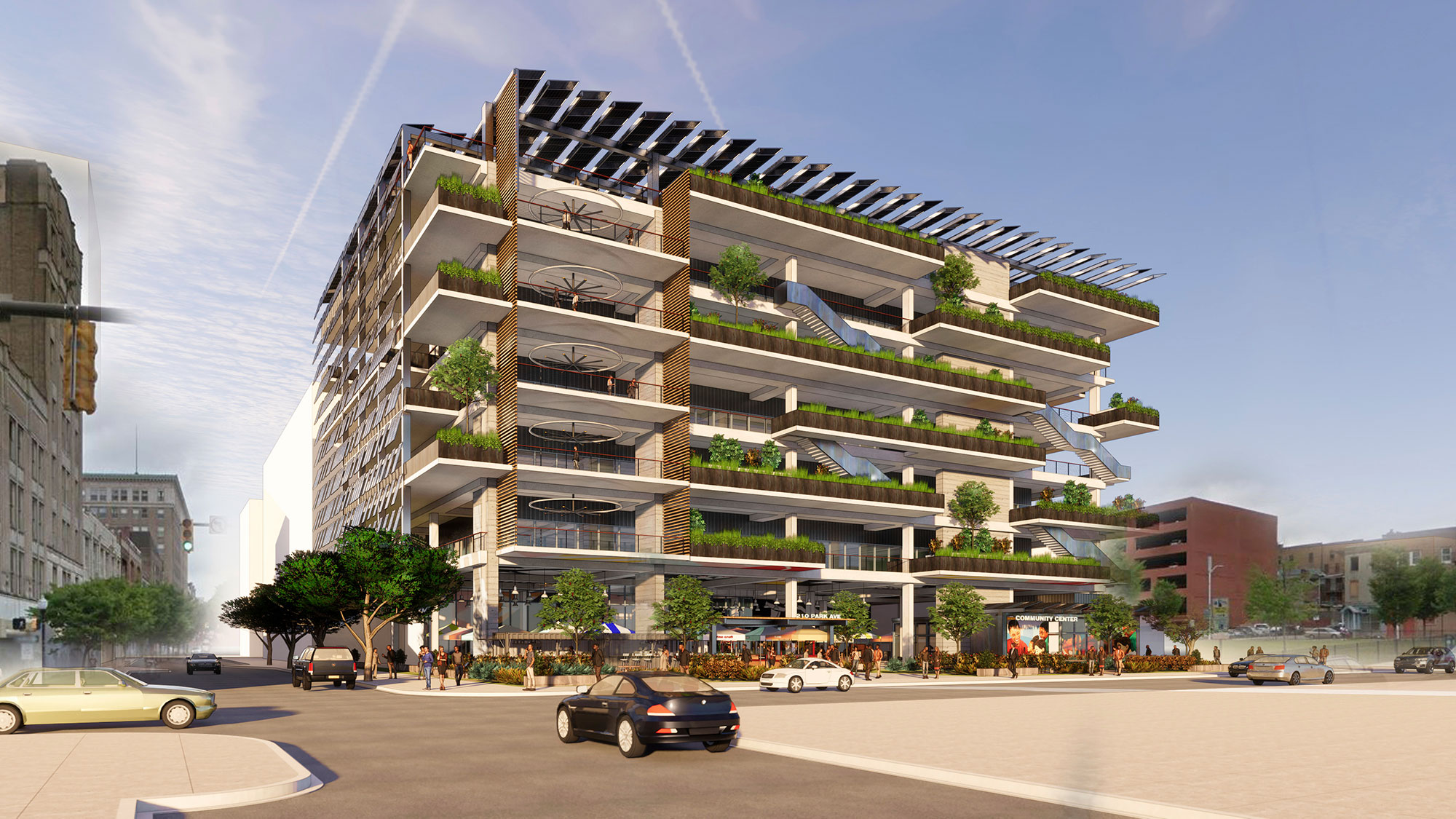 On each upper floor, we created "morphable" office space with movable walls that can flex to indoor or outdoor space depending on weather conditions. As part of our research, we talked to a cultural anthropologist and a neuroscientist and learned that the human brain is at its most creative when we are outside. This research inspired the building's morphable floorplate. The concept's design includes movable façade panels made almost entirely of sliding glass, which would allow increased access to open air for much of the year. By moving the façade panels, the building can morph from "partially enclosed" (30-50% open) to "fully open (80% open) when outdoor temperatures are reasonable.
Evaluating measurable impact through KPIs
To evaluate the measurable impact of this design from an Environmental, Social, and Governance (ESG) perspective, we established seven key performance indicators (KPIs). These KPIs evaluate user experience, community impact, culture impact, social equity impact, and environmental impact.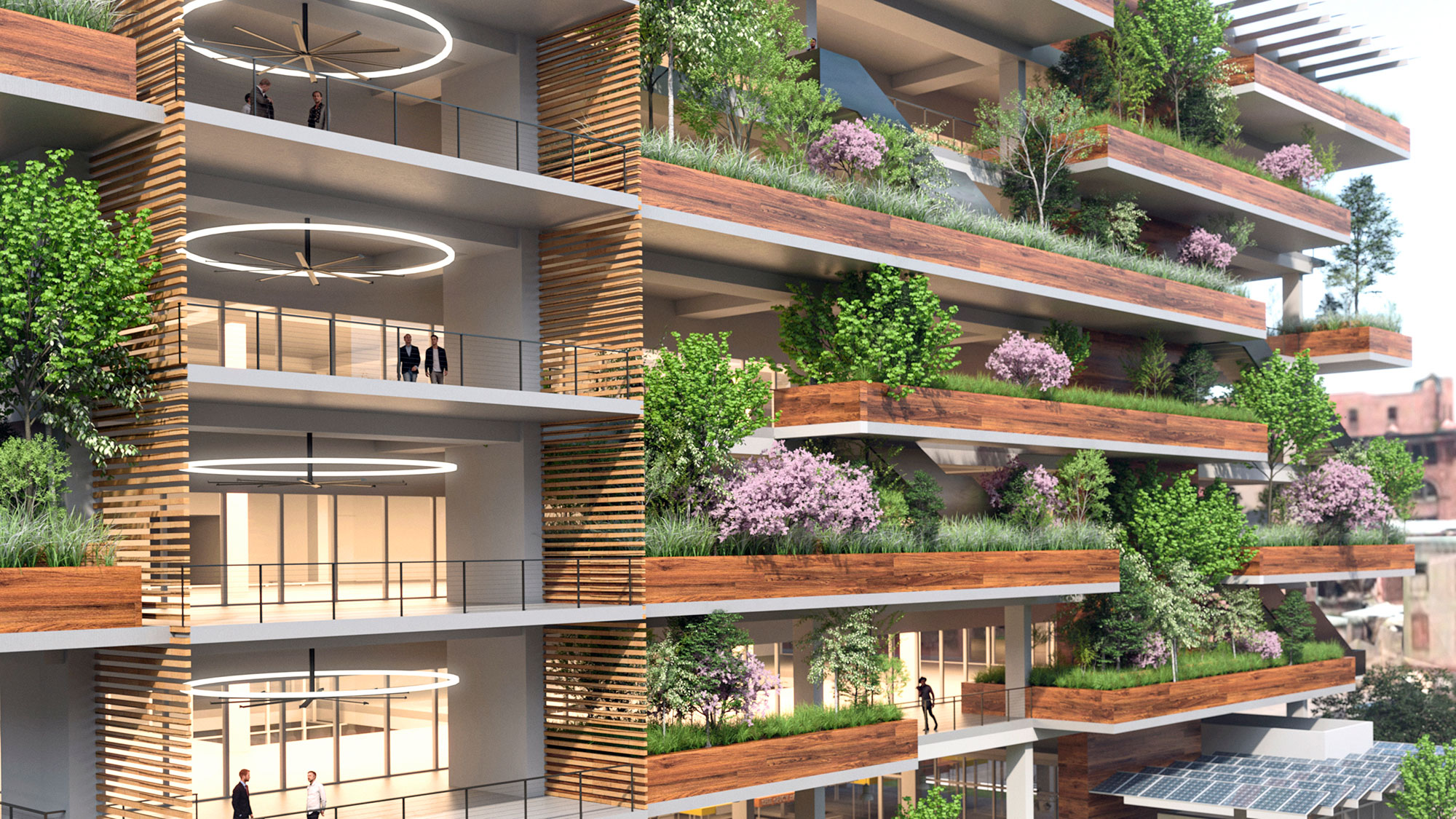 Our Morphable Office concept uses 50% less energy and 60% less water than a traditional office building. And of the remaining 50% energy, more than half is generated with on-site. With available options for green power for the remaining 20%, this gives tenants an achievable path to net-zero.
But the real market differentiator is a new kind of office that allows tenants to sit, stand, and work while moving through sheltered, tempered outdoor space — all while feeling healthier and more connected to their community.
For any media inquiries, please email media@gensler.com.
About the Authors:
Darrel Fullbright FULL BIO/ALL POSTS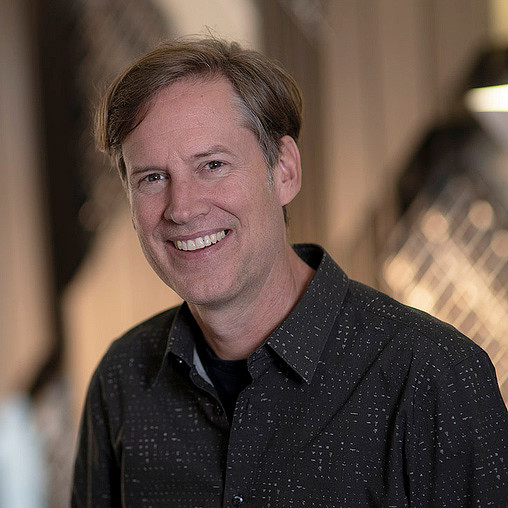 Darrel is a principal and design director who helps lead Gensler's Office Buildings Development practice. A true client partner and advocate, he leads projects of various types and sizes, building a strong reputation as a strategic thinker in the real estate industry. Darrel is based in San Diego, where he helped grow the office into the area's largest architectural practice. Contact him at Darrel_Fullbright@gensler.com.
Duncan Lyons FULL BIO/ALL POSTS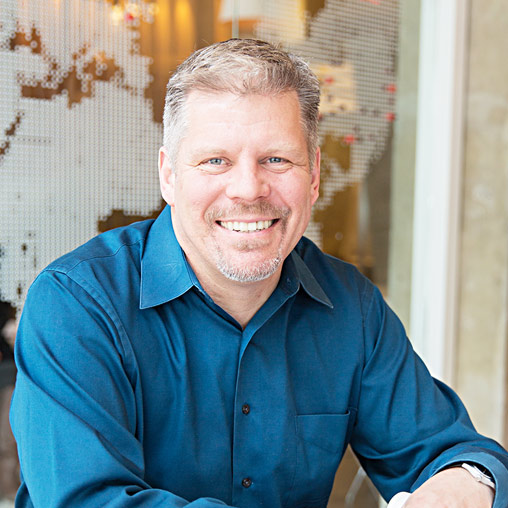 Duncan is a design director and a leader in Gensler's Office Buildings Development practice. He has over three decades of experience designing award-winning buildings for a variety of institutional and commercial clients in the U.S. Mid-Atlantic region, Europe, Asia, and Australia. He is based in Washington, D.C. Contact him Duncan_Lyons@gensler.com.
Jim Stanislaski FULL BIO/ALL POSTS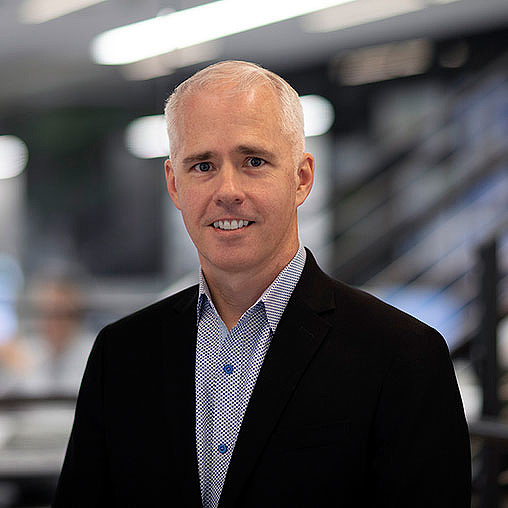 Jim is an architect and the Global Design Resilience Leader for Gensler's Developer practice area. A former President of AIA Massachusetts and Architecture 2030 National Advisory Board member, Jim has also served on National Academies Transportation Research Board committees for energy efficiency and sustainability. He is currently on the Board of Directors for Built Environment Plus, a non-profit member-based organization advocating for green buildings at the state and local levels. Jim is based in Boston. Contact him at Jim_Stanislaski@gensler.com.