Guest post by, Rives Taylor And Carlos Valera, Gensler
This article was first published on Gensler's blog.
The real estate industry faces multiple threats. Rising water may be the biggest existential challenge to the industry worldwide, but it's not the only one. Extreme weather events of all kinds have become regular occurrences, and heat and drought are becoming a climate reality.
With rising temperatures and less precipitation, more than half of humans around the globe — most in marginal communities — are anticipated to live in desert environments by 2030. According to the Global Center for Adaptation, 1.2 billion people worldwide will face displacement or forced migration by 2050 because of ecological threats.
The financial and societal implications of climate change on commercial real estate are starting to come into stark relief. The latest estimates show that $135 billion in commercial and residential real estate nationwide are under threat of being compromised by 2045 due to rising sea levels. This raises questions about the long-term value and insurability of real estate.
ACROSS THE GLOBE, COASTAL CITIES ARE RECKONING WITH SEA LEVEL RISE.
A warming atmosphere is one of the results of climate change, and increased temperatures are turning up the wattage on severe weather events and prompting sea level rise. Year after year, we are seeing this phenomenon play out around the globe.
The annual monsoon storms that deluged India, Nepal, and Bangladesh in 2020 were so intense that they displaced four million people. In Houston in 2019, tropical storm Imelda unleashed more than 40 inches of rain and triggered the city's fifth 500-year flood in just five years. There are many more examples."To create a resilient building in a flood-prone area, we went beyond just consulting FEMA maps to proactively planning for sea level rise and storm surge."—Ana Benatuil, Architect, Gensler Miami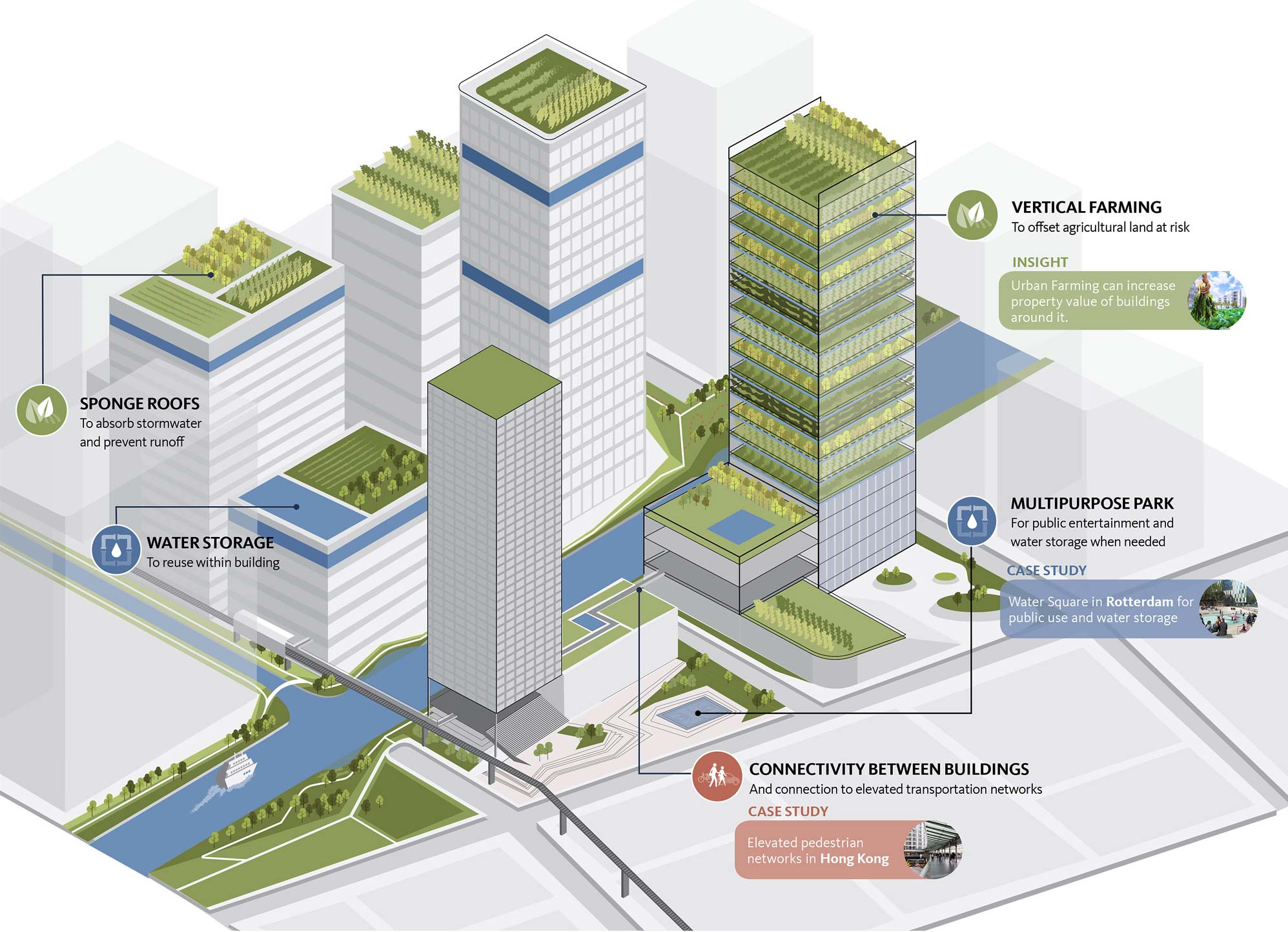 Urban Strategies for Coastal Resilience, Miami Key zoning considerations include connections between buildings and elevated public transport and a new typology of building dedicated to vertical farming.
HOW TO MITIGATE THE RISK OF RISING WATER
Despite the urgent threat of rising seas, there are ways real estate investors in coastal cities can mitigate their risk. In 2019, Gensler partnered with Florida International University to address coastal climate challenges and identify strategies that cities around the world could use to address rising sea levels.
CREATE PEDESTRIAN ACCESSIBILITY. The focus of the scheme is accessibility; a network of pedestrian green routes connect the neighborhoods and large parks located at the coastal edge and in the center of the development. There are no level changes across the scheme to strengthen accessibility and promote exercise and healthy living.
2. CREATE GREEN AND BLUE VIEWS. The scheme is designed to maximize green and blue views by ensuring that the development steps down in height from the dense core to the shoreside neighborhoods.
3. CREATE 'SPONGE ROOFS' AND PERMEABLE PAVEMENTS. A mix of green roofs and permeable pavements support a sustainable drainage system strategy to capture and store water.
4. COLLECT RAINWATER AND USE GRAYWATER. Sponge roofs paired with siphonic drainage and a storage system collect rainwater and significantly reduce water usage in a property when combined with graywater from sinks and showers.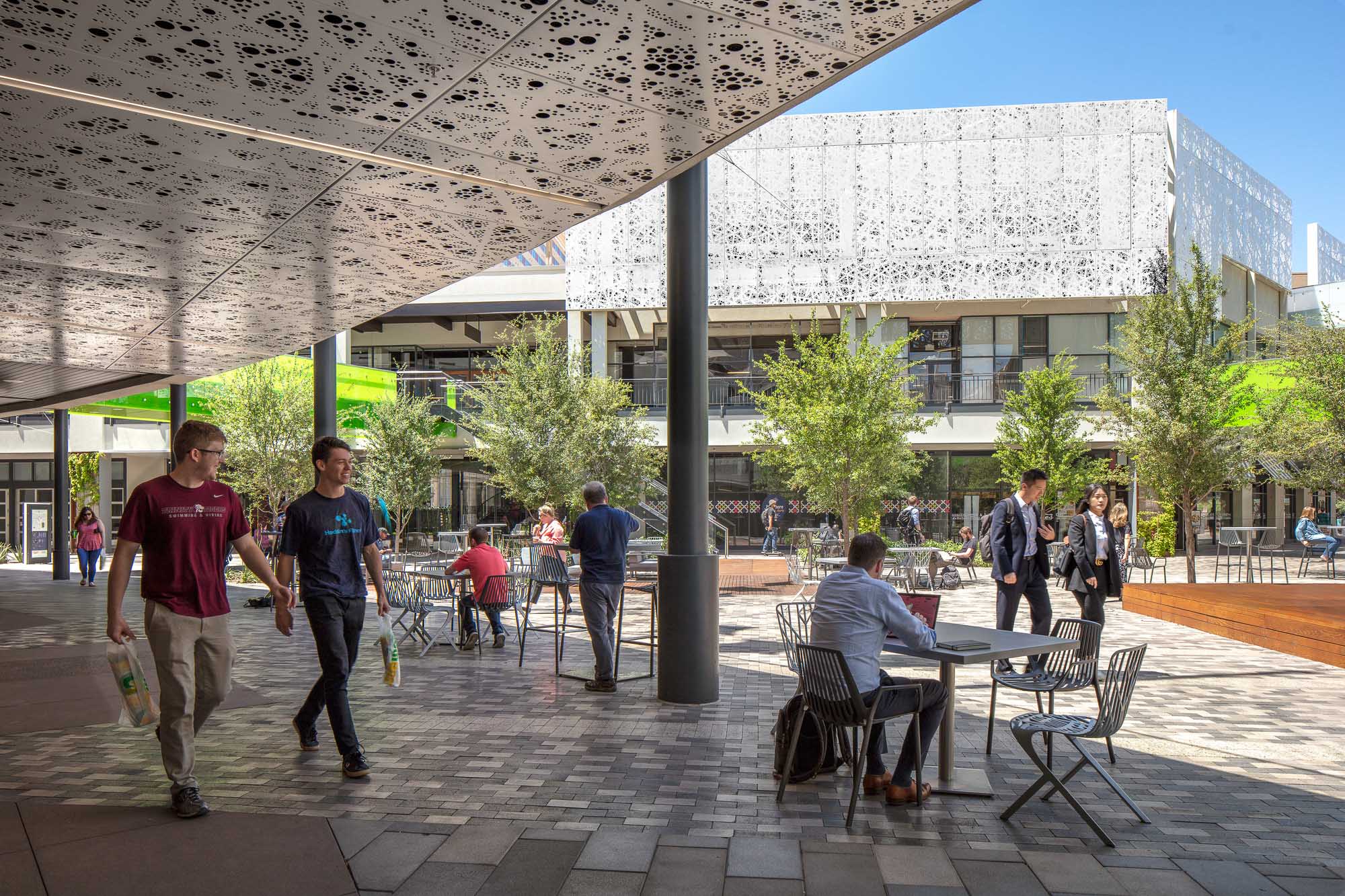 Arizona Center, PhoenixThis new experience-based, pedestrian-oriented model for a mixed-use office, retail, and entertainment venue in downtown Phoenix utilizes varied perforated solar screens and landscaping to mitigate the harsh desert climate.
HEAT IS A GROWING CONCERN.
Climate adaptation issues go far beyond just flooding — urban sprawl is one of the drivers in exacerbating the Urban Heat Island Effect, which is the contributing factor in making the world's cities hotter. For decades, we've been building with materials that have a high heat storage capacity, like concrete and asphalt. These trap heat on the ground during the day and lead to increased nighttime temperatures, which result in higher operational costs for things like air conditioning. These increasing risks come at a time when many cities are struggling with issues of maintenance and infrastructure upgrades.
Extreme heat also disproportionately impacts communities of color and marginalized populations worldwide. In the U.S., formerly redlined areas — Black neighborhoods that were outlined by red ink on real estate maps by mortgage lenders so they could avoid giving loans to individuals who lived there — are consistently hotter than non-redlined areas. This is because a lack of historic investment in these urban neighborhoods has resulted in lower levels of vegetation, older and less-efficient building typologies, and a heavy reliance on concrete and asphalt.
HOW TO MANAGE THE HEAT
In order to mitigate the Urban Heat Island Effect and address the unequal impact of hotter temperatures on marginalized communities, we can implement desert-appropriate design strategies like the ones below.
ADD SHADE. Envelope-mounted sun screens, both vertical and horizontal, and deep roof eves can shade buildings and the sidewalk below.
2. REPLACE CONCRETE AND ASPHALT. The use of permeable pavers absorbs much less heat than asphalt.
3. USE NATIVE LANDSCAPING. Native trees and shrubs on top of and around buildings serve as added shade while also capturing stormwater runoff.
4. PARTNER WITH LOCAL COMMUNITIES. Education and outreach on a local level can raise awareness of the harmful effects of heat. Offering practical and actionable solutions such as volunteer tree planting efforts or weatherization instruction can engage the community and lower the temperature.
EXTREME WEATHER IS DRIVING CHANGE.
Extreme weather events are also impacting real estate decisions. According to the findings compiled in Volume 2 of the National Climate Assessment, climate change is causing more frequent and severe weather across the U.S. Extreme storms, heatwaves, wildfires, and floods are becoming regular events rather than rare ones. In fact, since 1980, the U.S. has sustained more than 200 weather and climate disasters, with costs exceeding $1.1 trillion.
To mitigate the risks, we need to anticipate and prepare for extreme weather–related events, rather than simply react to them. Communities can adopt design resilience strategies, invest in forward-looking infrastructure, and find climate- and local-specific solutions.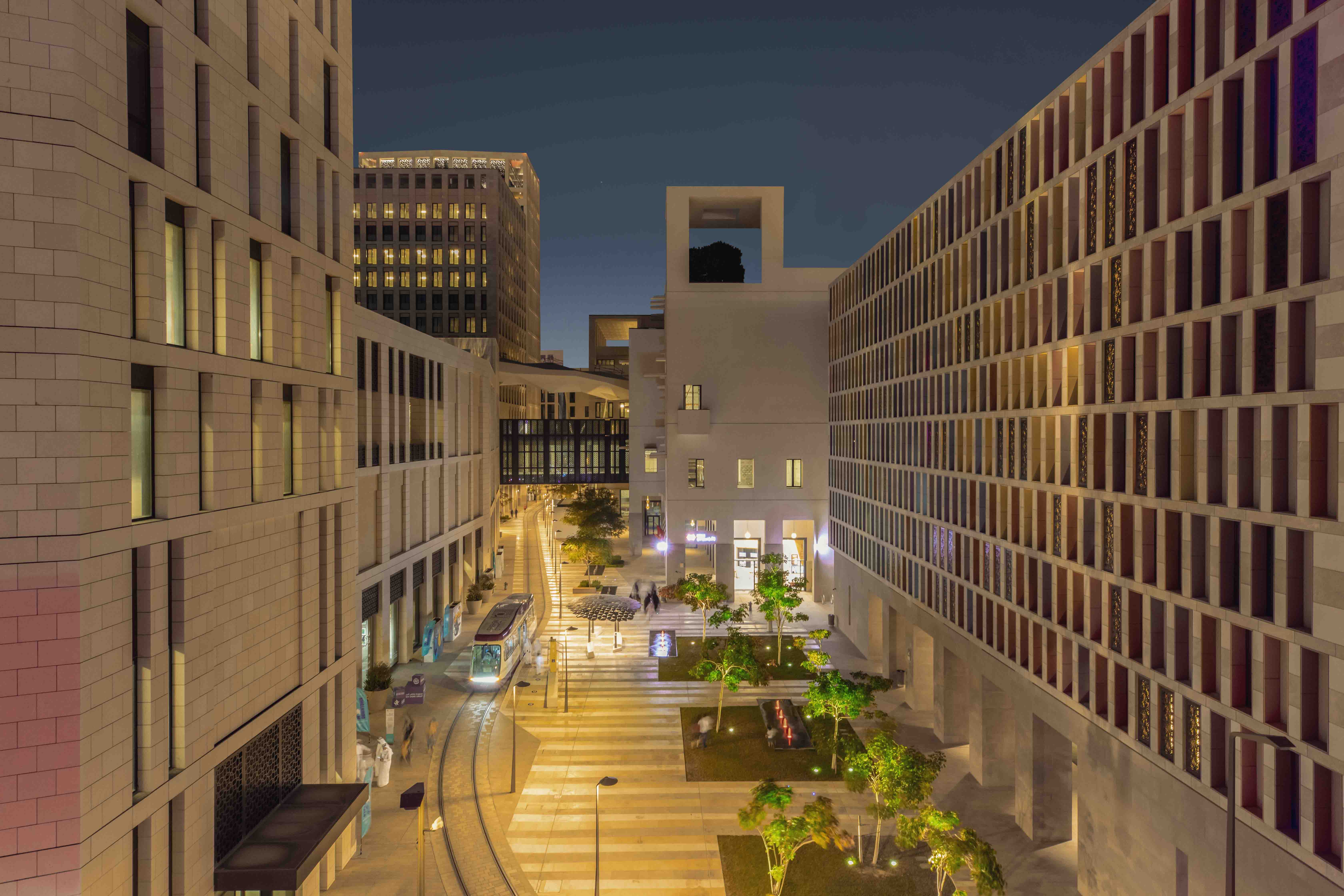 Msheireb Downtown Doha, Qatar
Realized by Gensler in partnership with an international team of architects and engineers, Msheireb Downtown Doha represents one of the highest concentrations of LEED-certified buildings in the world, with 48 anticipated LEED Platinum and 23 LEED Gold Certified buildings to date.
Combining modern construction techniques with cultural and contextual precedent for sustainable design, the project takes a markedly different approach to downtown redevelopment — focusing on the human experience, street presence, and progressive approaches to providing human comfort in a hot climate.
"This project achieves a distinctly Qatari architectural style and experience and represents a progressive new approach to sustainability in hot, arid climates."—Lisa Cholmondeley, Design Manager, Gensler San Francisco
The climate is already changing – real estate must adapt accordingly
About the Authors:
Rives Taylor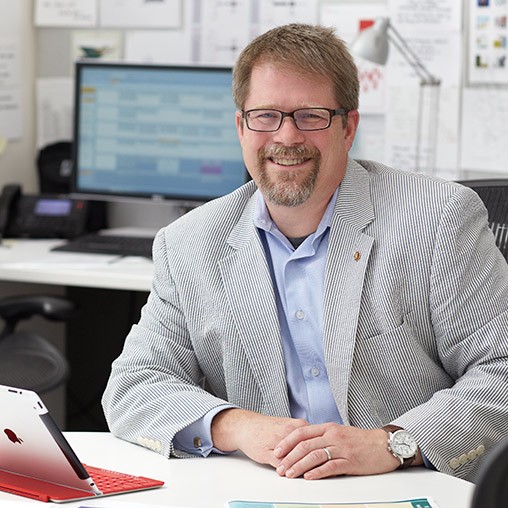 Rives co-directs Gensler's global Design Resilience practice focused on sustainable design, and is the global Resilience lead for the Gensler Research Institute. He is a principal and a recognized global expert in resilient, high-performance, and sustainable design, and has served as a faculty member at Rice University and the University of Houston for 30 years. Rives is based in Houston. Contact him at Rives_Taylor@Gensler.com.
Carlos Valera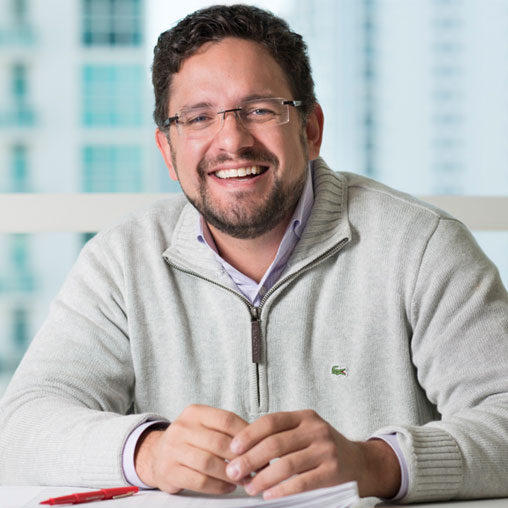 Carlos is a Co-Managing Director of Gensler Miami, focusing on the growth and leadership of the office. He brings deep expertise in managing global accounts, strategic planning, project development, and execution to reach clients' business goals. Contact him at Carlos_Valera@Gensler.com